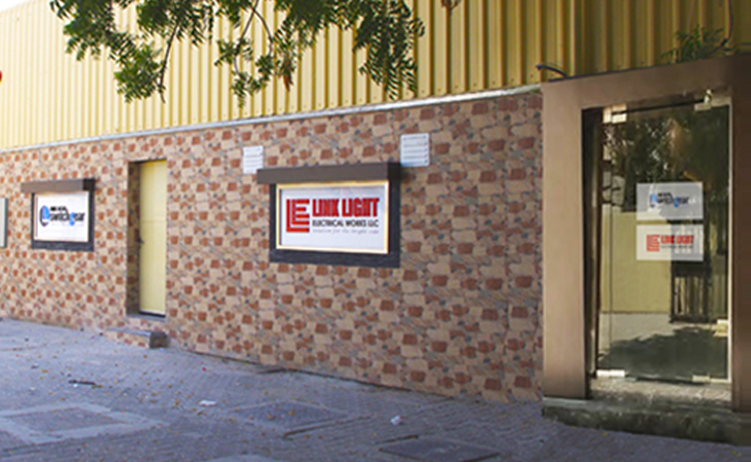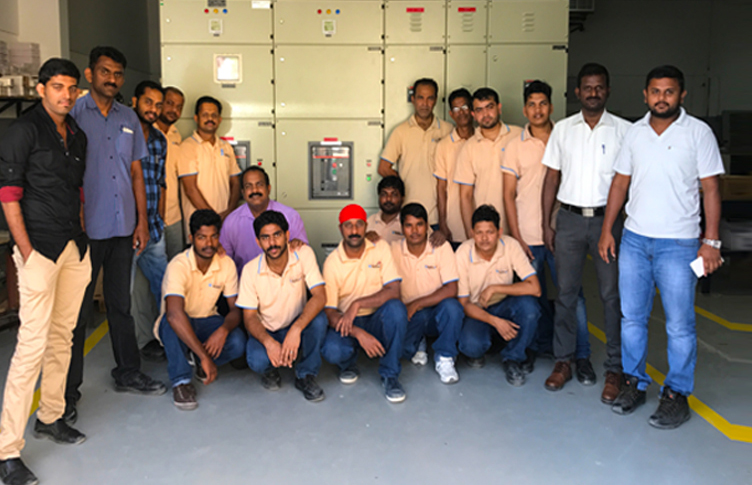 We at LLS are committed to design, assemble and supply quality products fulfilling the requirements of customers to satisfy them with continual improvement. We believe strongly in providing quality service on time and within budget while maintaining safety and cooperating with those involved.
The Switch boards are designed in house by our professional team of engineers adhering to IEC & BS relative standards specified by local authority (DEWA) and reputable consultants. The design team makes use of EPlan and Autocad for drafting prior to its assembly by skilled and trained technicians. These are then thoroughly tested by our skilled quality control engineer with the assistance of modern tools and machinery. We are using the switchgear components from ABB,Schneider and L&T. The integrated engineering offices and manufacturing plant of LLS are housed under one roof and cover an area of 12,000 sq feet in Al Qusais Industrial area Dubai, UAE. The company has achieved accreditation for its Quality Management System in accordance with the ISO 9001: 2015 standard.
Thus the Main Motive of LLS is to ensure customer satisfaction by providing premium quality panel boards with a full warranty for maximum performance. The assembled components are acquired from top range manufacturers. More over a qualified team of specialists ascertain a prompt and excellent after sales service whenever required. This includes any future upgrades, replacements and modifications. The offices of the key component manufacturers are situated in UAE which further assures the technical and service back up and training.
To provide dedicated services and high standard of workmanship that will improve the overall efficiency, reliability and protection of our customer's electrical power system
The company's management philosophy is based on teamwork and partnerships coupled with clear personal responsibilities for the delivery of our business objectives. We constantly strive to be the leader in our chosen markets and believe that success can be achieved by delivering consistently excellent services to every customer. These principles will guide us to succeed in our projects and will serve us well ahead into the future; from site execution to project management and ultimately to fulfill the client's desire.
Our organization is backed by a team of dexterous professionals, which helps in conducting our business operation in a well organized manner. We select our professionals after complete evaluation of their skill and industry experience. Our well framed recruitment process enables us to select the best industry professionals. In our team, we have the following professionals:
Sales Engineers
Estimation Engineers
Production Engineers
Product designers
Quality controllers
Allied technicians
Skilled workers
Owing to the combined efforts of our professionals, we are able to come up with quality range of Electrical Products. Moreover, these professionals also maintain close coordination with the clients while executing the turnkey projects.
To be the preferred solutions partner to the region's electrical industry through design, assembly and supply of premium quality panel-boards and circuit protection and control devices.
We, the staff and management of LLS endeavor to manufacture and supply high quality switchgear panels that are engineered to safe guard human life and equipment, and to achieve customer loyalty through timely delivery, superior service and high product reliability are committed to continually improve the effectiveness of established quality management.
The documented and established quality policy is corresponded across all levels of the organization by conducting meetings, displaying at appropriate places, imparting training to all staff to ensure that staff understands and adhere to the quality policy.
Management reviews (subjected to revision when ever needed) the quality policy and quality objectives for ensuring the continuing suitability & effectiveness of the established Quality Management System and the changing needs of market.
Top management has defined a quality policy for the organization, which is considered as a benchmark to provide quality service to the customers.
Management ensures that all the employees whose work affects the quality of the service understands the Quality Policy of the organization and are committed towards it.
Quality policy is periodically reviewed to ensure its continuing suitability with the organizational needs and the changing environment.